*Disclaimer: Our contract specifically included creating the designs and user experience of this website, therefore we were not involved in the site development phase.
This case study provides an example of an extremely large site with many complex features and integrations. We worked with many stakeholders to gather requirements and ensure each division had appropriate representation in the final product. We also had to meet WCAG 2.0 AA accessibility standards (standard at the time of design). Throughout the process we constantly tested our material with users to get feedback before proceeding to the next step. This was extremely important to BC Ferries as they are often publicly scrutinized.
Challenge
BC Ferries' existing website had not undergone a major rehaul for 15 years and the team were running into issues with the technology powering the site being deprecated, inefficiencies in content loading, and being unable to best serve customers who are in transit, as the website was not responsive.
BC Ferries also needed to launch their new Fare Flexibility model to the public, which would see changes in how customers could reserve and pay on the website. The BC Ferries team were concerned with how the public would receive such significant change, all at once.
Insights
Our solution needed to support the launch of the new Fare Flexibility model, consolidate the BC Ferries corporate site and the BC Ferries Vacations website into one single solution, deliver against AA accessibility standards, be responsive and optimized for customers who are on-the-go, and showcase an improved user experience and design.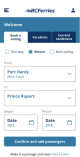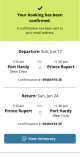 Solution
Perhaps even more importantly, the opinions of BC Ferries' customers needed to be heard throughout the process so it was essential that we tested with real customers. We delivered in-person user testing for wireframes, designs, and virtual testing in the form of links made available from their existing live site for tree-testing of the IA and virtual testing of the final designs. As the project progressed, it became increasingly evident that the needs of BC Ferries' customers in Vancouver were very different from those of their customers on remote islands in Northern BC. It was important that both of their needs were represented, so we conducted our in-person testing with customers from a variety of geographical locations served by BC Ferries' fleet.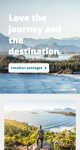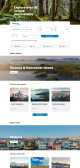 Results
The site launched in mid-September 2020 and therefore we don't have any metrics available, as yet. However, from a project point of view, we delivered 1,200+ pages of final wireframes, 600+ pages of final designs, and 25 in-person user testing sessions within a 6 month period.
Services
Technology
Accessibility Integration & Review
E-Commerce
If you'd like to work with us please send us a signal: